ValleyZen applauds the work of the Anita Borg Institute and its leading position at the intersection of women and tech. In 2009, we covered their Women of Vision Awards.
The following post is by guest writer Jerri Barrett about this year's 2011 Women of Vision Awards. Jerri Barrett is the Vice President of Marketing for the Anita Borg Institute for Women and Technology. She came to the Anita Borg Institute after more than 20 years in high tech marketing for a variety of telecommunications companies.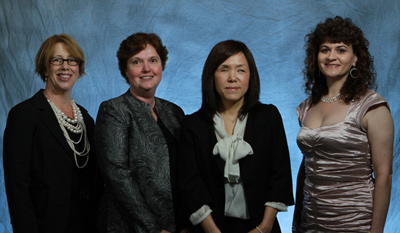 Each year the Anita Borg Institute for Women and Technology holds the Women of Vision Awards Banquet.  I have had the honor to do the marketing for this event for the last four years and the opportunity to get to know all of our award winners.  For me each event is more inspirational than the last.
On May 19th, we held the banquet and for the first time bestowed the Anita Borg Top Company for Technical Women to IBM.  Brenda L. Dietrich, IBM Fellow and Vice President IBM Research, accepted the award on their behalf and inspired everyone in the audience with her knowledge that diversity is integral to corporate success in today's world.

"Do not speak, unless it improves on silence."  –Buddhist saying

We also awarded the three Women of Vision Awards for Innovation, Leadership and Social Impact last night.  The speeches of these three women definitely improved on silence.
Mary Lou Jepsen, CEO of Pixel Qi, is probably better known for her work as the CTO and co-founder of One Laptop per Child.  She received the Women of Vision Award for Innovation.   Mary Lou shared how she faced many doubters when she took on the challenge of creating a $100 laptop that would enable underprivileged children around the world to access information.  What inspired me was her ability to ignore these doubters. As she said, if there was even a 10% or even a 1% chance of success why not try?  What I learned, don't let other people's negativity deter me from doing what I think is right and important.
Chieko Asakawa, IBM Fellow faced the challenge of being blinded at the age of 14 and went on to rise to the level of a Fellow at IBM, the most prestigious level for a technologist, get her PhD and raise two children all at the same time.  She won the award for Leadership.  "The world is filled with challenges. We can't solve all of them, but we can make a difference. The world has so many people who lack certain abilities. We can't help all of them, but we should never give up working to empower people with technology, one by one, more and more. The accumulation of empowered people will strengthen our economies and advance our societies to the next level," said Chieko.  She inspired me by her indomitable spirit and the knowledge that challenges should not defeat me but will make me stronger.
Karen Panetta,  Professor of Electrical and Computer Engineering and Director of the Simulation Research Laboratory at Tufts University, won the award for Social Impact.  Karen's sense of humor had a profound impact when she spoke of being inspired by Anita Borg herself who's slogan was "Do the Right Thing".  Karen has done the right thing by creating NerdGirls to encourage young women to enter the technology field and find ways to solve the world's great problems.  My favorite quote from her speech was on the subject of how to live your life.  "Now, there are times in all of our lives, where we only hear negatives and criticism, it makes us feel like a box of baking soda. You know, it's the stuff you use in your refrigerator to absorb all the foul smelling stuff. Absorbing that negative energy does nothing but hold you back, if you let it. I prefer to reflect energy like a solar cell and transform it into something positive that can change lives and if I can do it, so can you."  I resolved to not live my life like baking soda.
The personal stories each of the three Women of Vision winners shared had a profound impact.  They had shared their challenges and how they overcame them.  And they shared how each is making a positive impact on the world.  I now feel that the challenges I face in my own life are not insurmountable but instead are what will make me a stronger and better human being and increase my own positive impact on the world.
by Jerri Barrett