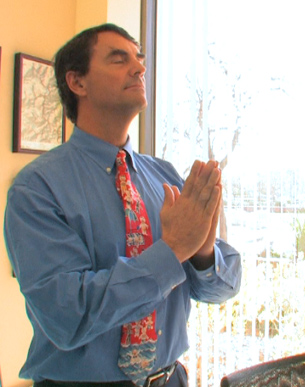 Tim Draper, Founder of DFJ, gives us an AMAZING interview. In over 50 minutes of high-energy footage, Tim catapults Drue in the air (literally!), shows his art in DFJ's Men's bathroom, and reveals his Zen insights on entrepreneurship, business and life. For the next 5 weeks, every Monday we will release one of the episodes, about 10 minutes each, of Tim's irreverent wisdom. Here is a short trailer, to whet your appetite. Here is the first episode. In it you will see Tim:
On the importance of Zen in Draper Fisher Jurvetson
On his cameo as Principal Schmoke in the Naked Brothers Band (are you watching the series on Nickelodeon? You better!)
On digging deep to write The Risk Master, an entrepreneurial anthem
On Asymmetry and Non-linearity in life
"[ValleyZen.com] is a terrific addition to our business… If you have a good, strong spirit, it will drive your business."
"I got chased by a cape buffalo in Africa…" Hear the story!
Tune in for the next episodes every Monday only on ValleyZen.com. Don't miss:
Tim's Samurai lessons for entrepreneurs
A tour of Tim's office
Tim on Simplicity: "The simple, elegant ideas…"
A tour of the DFJ Men's Bathroom, featuring Tim's famous sheep painting
Stories from the Sand Hill Challenge
DFJ's golden Frisbee: what does it take to win one?
Witness a shoot-out in DFJ's office. Somebody, call the Police!
Tim's Samurai Flip: Drue flies into the air!
Tim sums it up best:"ValleyZen.com is the only way to start your day…I'm very excited about the future of ValleyZen…It brings all of us here in the Silicon Valley together in a special Zen way…ommmmm!"

Trailer:


Episode 1: