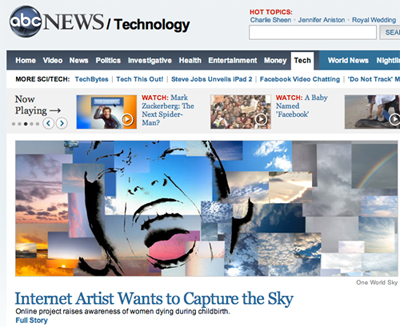 OneWorldSky.com has launched.
Imagine a collaborative and evolving art piece made of skies. Orphans, global leaders, students, scientists and teachers, alike — people from all races and backgrounds are participating in OneWorldSky.com and it is just beginning. Launched yesterday on the 100th anniversary of International Women's Day, the project's goal is to shine a light on the plight of women around the world.
Take 5 seconds.
Email a photo of a sky to
worldskyart @ gmail.com
Learn more HERE.
ABCNews.com featured the project today. The article can be read HERE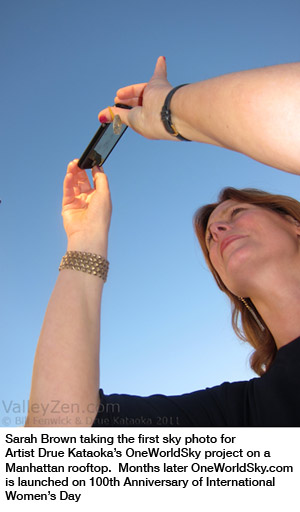 Last September, I met Sarah Brown, wife of former Prime Minister Gordon Brown in New York. She is the global patron of the White Ribbon Alliance. I had been developing the concept of a collaborative work of art built of skies from all over the world. I wanted this concept to have the most positive impact possible on an important cause. Listening to Sarah that day, I realized that I should devote my sky concept to the cause of improving maternal health in the world. The leading cause of death for women in developing countries is not AIDS, it's not Cancer. It's Childbirth. That's shocking. And unacceptable.
So I wanted to do something about it. I told Sarah about my vision and she loved the concept. I still remember we were standing on a Manhattan rooftop and she took the first sky photo to be included in OneWorldSky. Here's the photo of Sarah.
This January OneWorldSky was one of many artworks that I chose to include for my solo session at the World Economic Forum in Davos. The response was inspiring.
And a big thank you to all of you who have sent in beautiful skies and emails. The creativity shown has been extraordinary.
Scroll down below to see another photo of Sarah.
And below her TWEET today to over a million users about OneWorldSky. Follow her on twitter at @sarahbrownuk if you are interested in women's rights and the latest in maternal health issues.