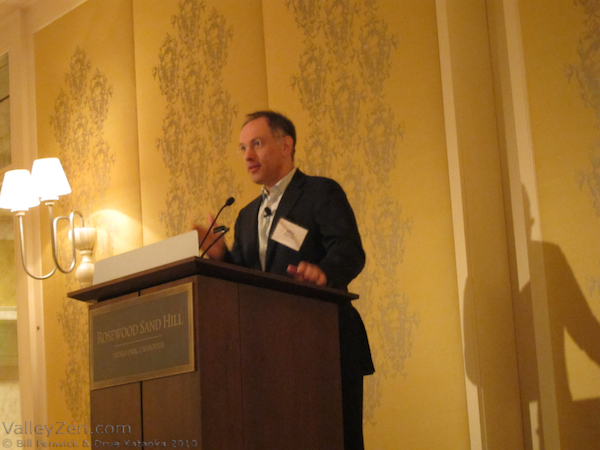 "I had this extraordinary passport to go anywhere" Michael Moritz said today at the luncheon hosted for him today by Silicon Valley Bank at the Rosewood Hotel. Moritz was talking about his early days as a correspondent for TIME Magazine, and the significance of working there in those days. "Back then the dream of every PR person was to get their client on the cover of TIME…so everyone would willingly open their doors."
At first glance it is seems unusual that one of the world's most successful venture capitalists started off as a journalist. But Moritz's meticulous research as a reporter laid the foundation for his superstar career as a VC. As Moritz studied entrepreneurs and the people funding those entrepreneurs,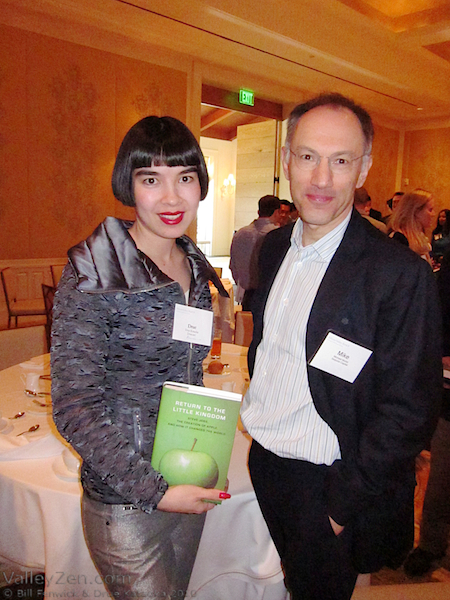 he was building invaluable knowledge about the little-known world of startups. "I met Arthur Rock, Tom Perkins (Kleiner Perkins), Don Valentine (Sequoia Capital)…I always had a bit of a taste for things that weren't well-known. The more interesting stories were the ones that were the less well-known ones…The last thing I would want to be is a White House Correspondent."
Back then, what wasn't known was "how a little company got started and what went into it. I began to understand that there was a colorful human tale to be told about the embryonic times of a young startup company. At that time no one had really focused on the first 60 months of the travails of getting a little company off the ground."
Over three decades ago, one of the companies that Moritz was allowed "unfettered access" to was Apple Computer. The result was The Little Kingdom: The Private Story of Apple Computer. The book told the story of two college dropouts, Steve Jobs and Steve Wozniak taking a garage hobby to the Fortune 500.
(ValleyZen's Bill Fenwick personally incorporated Apple in 1976 and worked closely with the two visionary Steves. More on that in a later post!)
Fast forward to today, Moritz is talking about his new book Return to the Little Kingdom, which offers his contemporary perspective on Steve Jobs, Apple's comeback, Jobs's "unceremonial dismissal from Apple," his long struggle with NeXT and finally triumphant reemergence in the 90s.
It's well known that Steve Jobs has had a long-term interest in Zen. In Return to the Little Kingdom, Moritz talks about Jobs's interest in Buddhist literature and attraction to Zen Buddhism. The book that most influenced Jobs was Shunryu Suzuki's Zen Mind, Beginner's Mind. Moritz writes: "Jobs started to believe that intuition formed a higher state of intellect and meditated in a crawl space above Kottke's bedroom, which was furnished with incense and a dhurrie rug."
We'll end with an intriguing remark from Moritz about what makes Steve Jobs special. "He is a technologist and a poet." He is not only a technologist, but someone "with a weakness for the liberal arts" and that's rare!
Have you read Michael Moritz's new book? Let us know what you think. If you haven't, let us know what you hope it includes.