Yesterday TEDxBerkeley gathered world-leading thinkers, makers, and doers at UC Berkeley to discuss Doing the Unprecedented. The audience was composed of a diverse and curated mix of 750 entrepreneurs, executives, professors, students, and thought leaders from Berkeley and beyond. A stimulating day of presentations, discussions, entertainment and art sparked new ideas.
To capture the theme of "Doing the Unprecedented," Drue created an original work of art. Drue's "A Small Step" is a bear in a space suit walking on the moon.
Below is a photo essay of highlights from the day: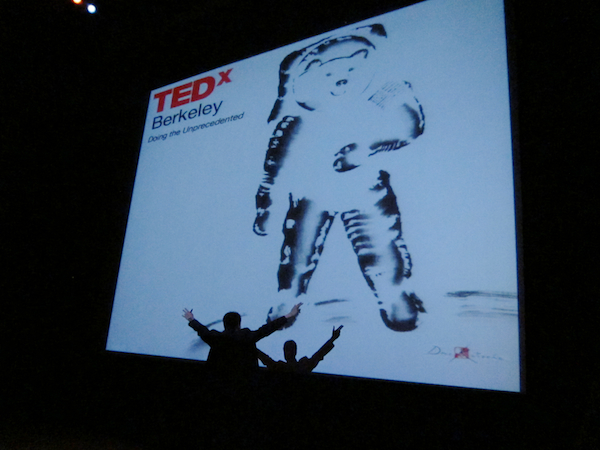 TEDx Berkeley Co-Curator Kai Chang makes a triumphant gesture on stage before a projection of Drue's painting "A Small Step"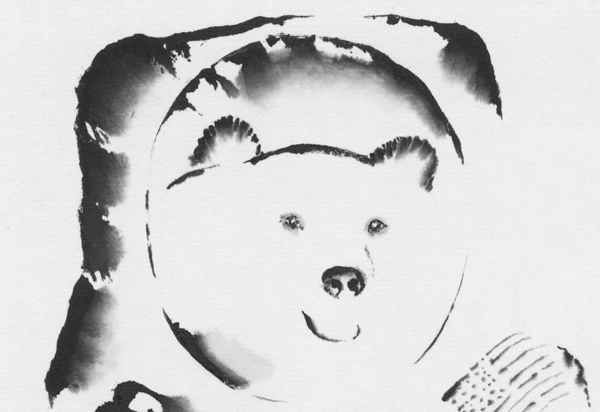 Detail of the face of the bear in "A Small Step." What is this bear thinking?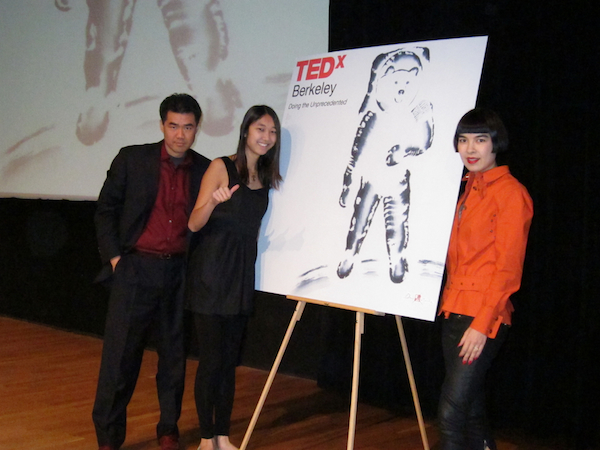 Co-Curators Kai Chang and Jessica Mah with Drue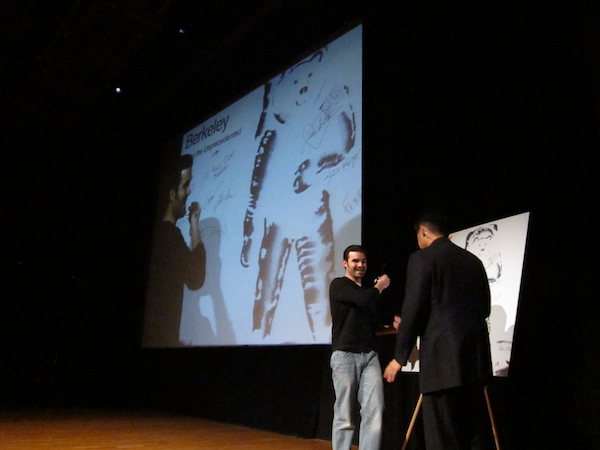 All speakers signed Drue's "A Small Step." Here, neuroscientist Bradley Voytek signs. Getting ready backstage was quite an experience because amidst all the microphones, lights, stagehands and chaos, Bradley had stashed a whole tray of brains in jars

ValleyZen liked the personal element of his talk, weaving in the story of his grandfather with his love of neuroscience.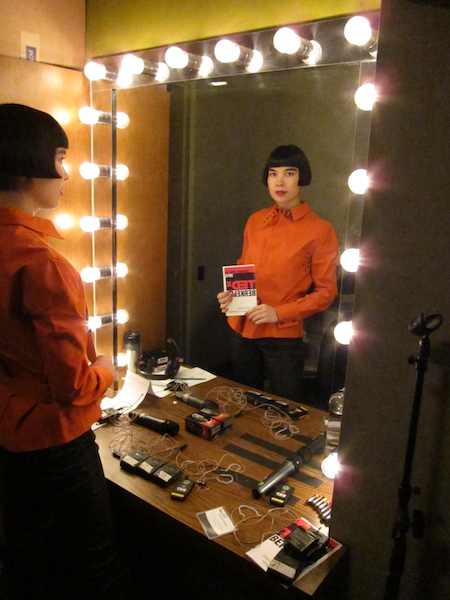 Backstage – light, microphones, and well, a lot of brains in jars behind Drue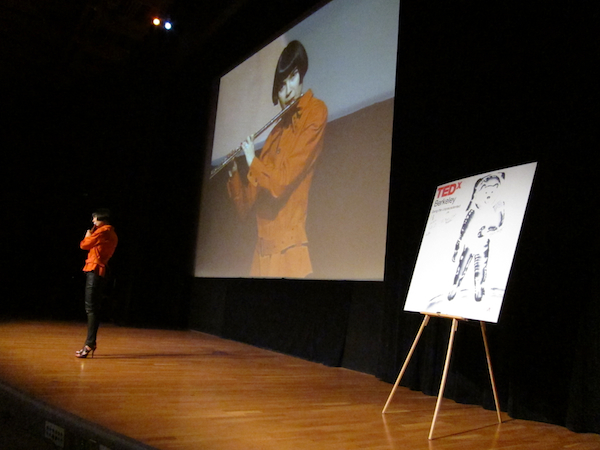 Drue played on her flute an original composition by Berkeley resident and Japanese Shakuhachi master Masayuki Koga Sensei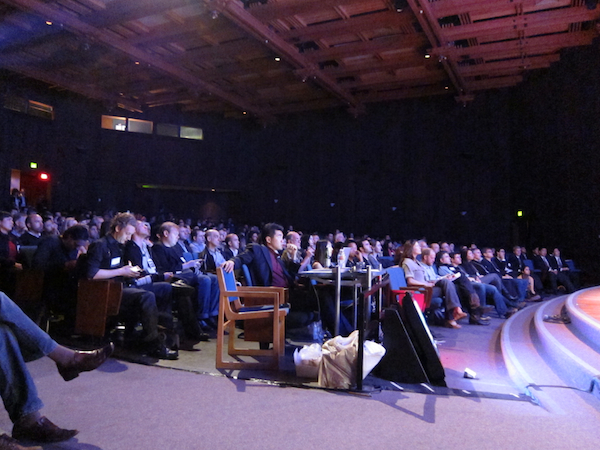 The audience at TEDx Berkeley inside Wheeler Auditorium was fun to play for. Great energy in Berkeley!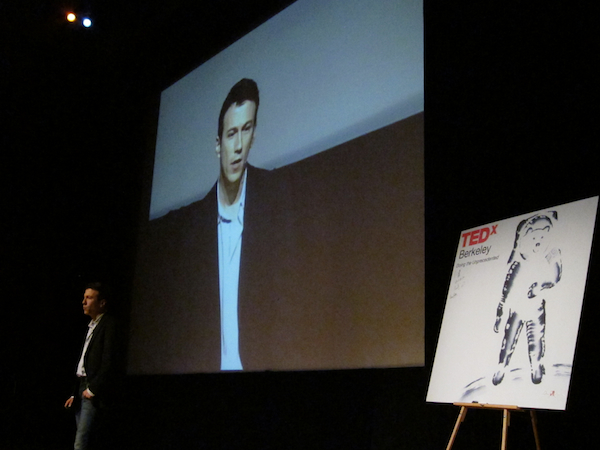 TED speaker Dr. Daniel Kraft's talk was excellent. In a short time it spanned wearable computing, robotic surgery, cybernetics and stem cells.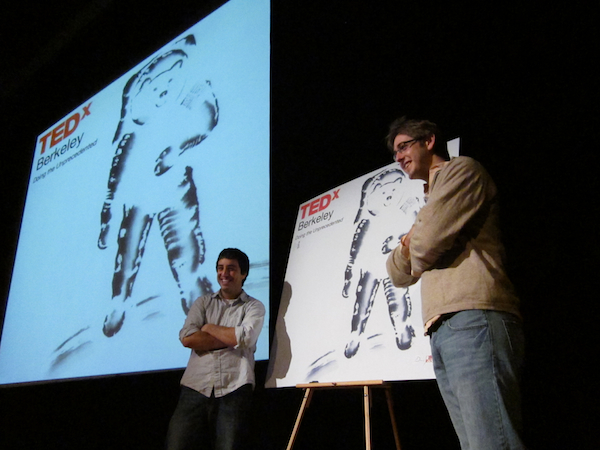 Chris McCann, Co-Founder of the Startup Digest, poses with a friend before "A Small Step"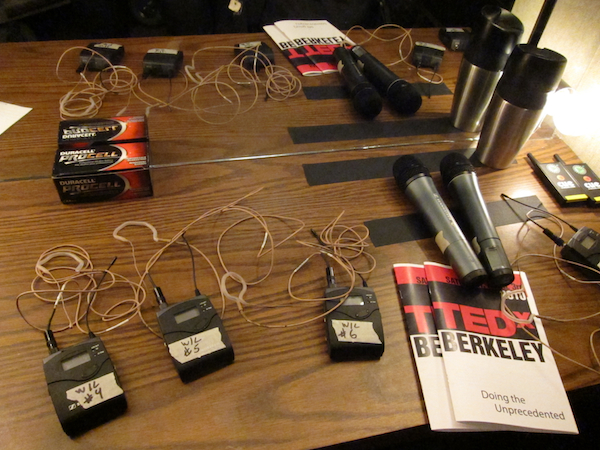 Backstage, Juliana was keeping all the mics straight and taping them on to our heads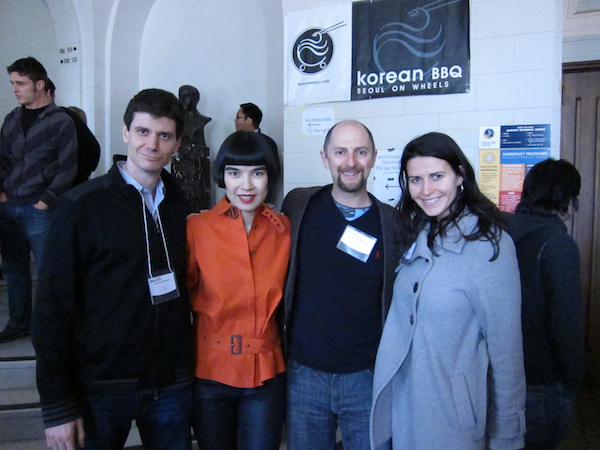 In the lobby at break: Svetlozar Kazanjiev, Drue, Barney Pell, and Nadya Direkova

Drue's "A Small Step" bear in space is "watching the clock" for the speakers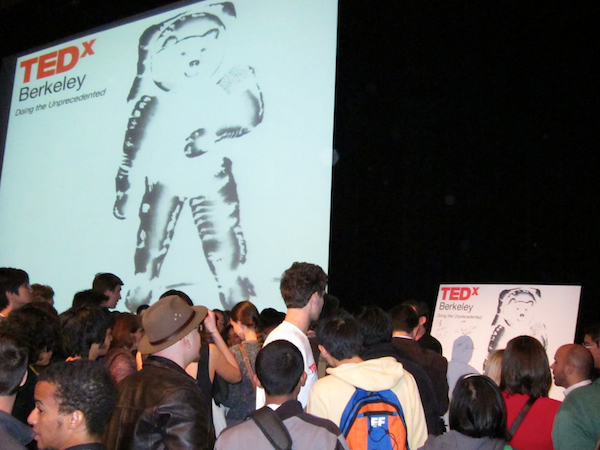 A great group of people at TEDx Berkeley came out on a Saturday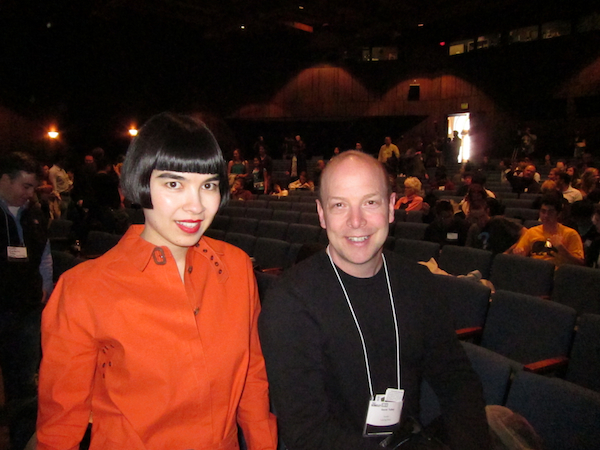 TED Speaker Gever Tulley (Tinkering School) was a surprise guest. Afterwards he showed Drue his fascinating notebooks.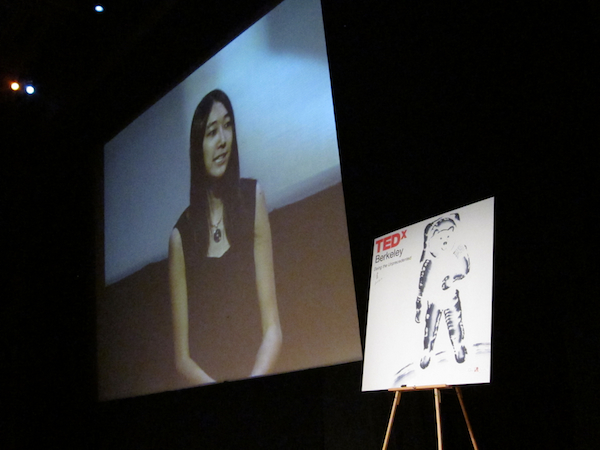 Jess Mah wraps up a fantastic day.
Congrats to Co-Curators Jessica Mah and Kai Chang, Jennifer Barr (Marketing/Operations), Navi Ganancial, (Logistics), Massimo Paolini, (Web Strategies), Rocky Mullin (Technical Director), Francesca Sterling, (PR), Eli Chait, David Allen, and Brandon Liu.