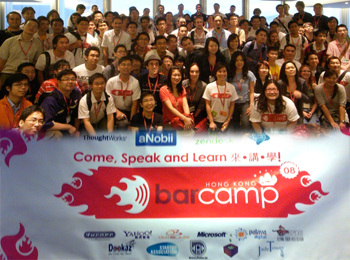 "What has happened by chance is often difficult to repeat when it is sought deliberately. Chance is a genius."
-Katsuki Sekida, Zen Training
This past Saturday, September 6th, marked the second edition of Barcamp Hong Kong. Barcamp began as an un-conference in Palo Alto in 2005. Some bright, enthusiastic, cosmopolitan people have brought the concept to Hong Kong. Yet, I wouldn't even know of the event, let alone be a participant were it not for Chance.
Chance & Change
I was working on a novel about surveillance, privacy and security set in Hong Kong and Chance led me to get into contact with Shava Nerad, former Executive Director of the Tor Project, through a social networking site (we knew some people in common through my time as a legal intern at EFF). Her kindness led to an introduction to Rebecca MacKinnon, blogger, former CNN Bureau Chief in Beijing and Tokyo, Public Project Lead for the localization of Creative Commons in Hong Kong and Assistant Professor at HKU's Journalism and Media Studies Centre. I was fortunate enough to study under Professor Lessig while at Stanford Law School and given his connection to Creative Commons and Rebecca's work, it was not difficult to find enough common ground to arrange an interview.
I met with Rebecca to get information for my book. Instead, through her kindness and her wealth of knowledge, I walked away with a bag of opportunities that would change the course of my life.
Web Wednesday
One of the things Rebecca recommended was an event called Web Wednesday, an event organized in Hong Kong by Napoleon Biggs. Taking place on the first Wednesday of the month, many English-speaking members in Hong Kong's Internet scene get together to network, listen to a featured speaker and drink too much alcohol. I went with no expectations; my goal was to observe. By the end of the evening though, I met a former employee of the speaker and we began discussing an idea I had for an Internet site. Chance. My newfound partner introduced me to some IT developers who bought into the concept and joined the team two days later. Chance. Shortly thereafter, I met a friend (a lawyer turned entrepreneur) from my former law firm while passing through San Francisco and asked for his feedback about the project. His feedback was that he wanted to join the project. Chance. Just one month after meeting Rebecca to interview her for my novel, I had the core of the team I needed to execute my idea.
Barcamp Hong Kong 2008 and the Hong Kong Startup Association
Barcamps are the epitome of Chance. The content of the conference depends on the skill-sets and interests of those who show up. The first Barcamp in Hong Kong was held in December 2007 at Yahoo HK's offices. Then, I was simply a participant looking to learn more about the Internet scene here in HK. This year, the event was held in Turner's offices in Hong Kong and I was not only a participant, but through my company, a sponsor of the event and a presenter.
Since I formed my company, Socialutions, and its Hong Kong subsidiary, I was constantly struck by the sense that a lot of talented Internet entrepreneurs in Hong Kong are re-inventing the wheel in a vacuum instead of sharing their knowledge with other entrepreneurs facing the same challenges. My business partners and I thought that this was a very inefficient and dysfunctional state of affairs and we wanted to create a grassroots organization in Hong Kong that would become a forum for Internet entrepreneurs to share knowledge with each other, learn from experts in various fields and create an infrastructure that would strengthen the ties of Internet entrepreneurs around the world by cooperating with organizations and groups of Internet entrepreneurs in other regions.
With that goal in mind, we founded the Hong Kong Startup Association (HKSUA) and held a panel at this year's Barcamp to present the community with our idea to see what feedback they might have and what the community wanted the HKSUA to be. Thankfully, the reception was overwhelmingly positive. Many people came up to us afterwards to say that they had been wishing for something like the HKSUA for a long time. Around 200 people attended Barcamp HK 2008 and in the week since the event, HKSUA's Facebook Group already has 75 members.
The day also featured a variety of other interesting panels, such as discussions about Augmented Reality, Twitter Visualizing Conversations, Convergence of Desktop & Web Applications, Digital Media Television, Mobile Gaming and other fascinating topics. These photos give a good sense of the spirit and nature of the event.
Closing the Circle
I was an undergraduate in my last semester in 1998 when I happened to pick up the school paper and see an ad for the Judicial Administration Fellowship. I decided to apply on a whim because I didn't know what else to do. I made it past the initial screening and got the last interview slot. Later, I was told that the committee had already made up their mind about the five people they would select for the Fellowship but somehow, I got them to change their mind during my interview, received the Fellowship and was assigned to the AOC's Technology Policy and Planning Division. It was through that Fellowship that I met Bill Fenwick who was serving on the Judicial Council's Court Technology Committee.
Chance.

10 years later and I met Bill again when I was in Silicon Valley pitching for legal representation and he graciously agreed to meet with my business partners and me. Nine months later, in August, I was in San Francisco for a month for meetings and I had lunch with Bill to talk about the state of my company and met Drue for the first time.
Chance.

Now I'm guest posting for ValleyZen.
Chance comes through once again.
Post by Henry Oh, co-founder of Socialutions, Inc., WikiEnterprise and the Hong Kong Startup Association. Henry holds a J.D. from Stanford Law School, a M.Sc. in Media and Communications Regulation and Policy from the London School of Economics, a B.A. from UCLA and was the recipient of a Fulbright grant. Henry has studied the Internet since 1993, with a focus on privacy, free speech and open source technologies.