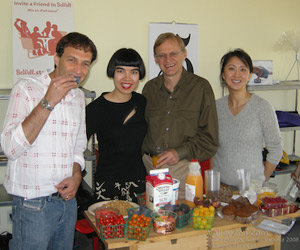 "ValleyZen will be the first to know when we pull the trigger," said Ron Gutman, Co-Founder and CEO of Wellsphere. A sleep-deprived but adrenalized team gathered around him at Wellsphere headquarters in San Mateo. Having worked around the clock the past few weeks in preparation for today's launch of Wellsphere 2.0, they seemed none the worse for the wear.
"Welcome to our office," said Dave Kashen, Co-Founder and CFO.
"It's NOT an office, it's a WellHome," quipped Gutman.
Welcome to the WellHome
In case you haven't seen a WellHome, this one is penthouse level with 360 views that stretch to SF and Mount Diablo. Spinning bikes face out towards the view. Team Wellsphere hopped on bikes and kept talking. "We do this often," said Gutman. Why not have a Board meeting and burn calories at the same time? (For the record, this is the first ValleyZen interview conducted partly on a stationary bike).
The WellHome is also stocked with an impressive spread of healthy whole and raw foods from figs and papayas to yogurt and freshly squeezed juices.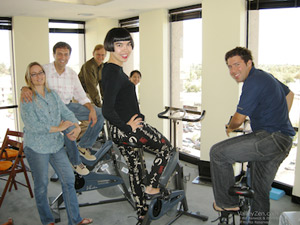 What is a WellSphere?
Wellsphere started in 2004 at Stanford B-School as a project of Ron Gutman and Dave Kashen. Dr. Geoffrey Rutledge (known to the community as "Dr. Geoff") joined, and the core team was formed.
Why is TODAY'S LAUNCH Important?
Until now, the primary focus of Wellsphere has been wellness information. Starting today, it launches the largest and most comprehensive information source for medical information and illness-related communities. The enormous amount of information is glued together by an impressive medical search engine (though the Wellsphere team prefers to call it a "health knowledge engine," so as to signal it is not competing with Google). It is indeed a major redesign, and with it Wellsphere puts an ambitious claim to lead in a very competitive and densely populated industry: health-related information.
What Differentiates them from the Competition?
1. Comprehensiveness of quality information: while their competitors have 50-200 active health-related bloggers, Wellsphere has 1,500. It has professors at the prestigious medical schools of Stanford, Harvard, Johns Hopkins and others blogging for their network.
2. Holistic focus on both the mind and the body: with its large base of bloggers who share similar medical experiences, Wellsphere provides an impressive support base—not just medical information.
3. Ease of finding what you are looking for: We encourage you to test side-by-side the search functionality of Wellsphere and its competitors, and you will be impressed. We did a non-scientific experiment by searching for "autoimmune diseases" on wellsphere.com, dailystrength.org and webmd.com. Then, tried the same sites with the misspelling "auto immune disease." Wellsphere won.
Here are the Screenshots:
Wellsphere 1 2
DailyStrength 1 2
Web MD 1 2
Why is Wellsphere Valley Zen?
1. We like the clean design despite the huge quantity of info.
2. Treating the mind and the body
3. Focus on applied knowledge and shared experience
ValleyZen Exclusive Video
Check out this interview with CEO Ron Gutman and CIO Dr. Geoff Rutledge.
Post by
Drue Kataoka
Svetlozar Kazanjiev