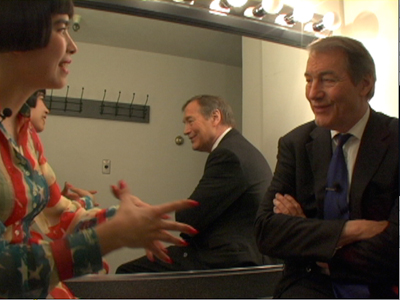 We recently met with Charlie Rose, Host of the Charlie Rose Show. Rose was this month's featured guest for Dick Henning's Celebrity Forum. While swinging through Silicon Valley, Rose also interviewed some Valley luminaries including Google CEO Eric Schmidt, Twitter Co-Founder Evan Williams and Stanford's President John Hennessy.
BUT— ValleyZen interviewed Charlie Rose!
Don't miss this exclusive backstage interview where Rose takes time to chat before addressing one of three sold-out crowds at Flint Center.
Check out Charlie Rose:
On Negative Space in Interviews
On gestures, the human face, and memory
On Intuition
On the Zen nature of his set
On the secret to engaging his guests
On people he wishes he could have interviewed, like George Balanchine
About Celebrity Forum
If you are in the Bay Area and have not ordered tickets for Celebrity Forum yet, you are missing out on a rare opportunity. Dick Henning is one of the world's most influential hosts. His charisma and track record make him a magnet for the biggest celebrities and stars in the world.
The Celebrity Forum, now in its 40th year, is a highly-prized speaking engagement—every former president since Nixon (he wouldn't take an honorarium, or questions) has spoken to Henning's audience, and the list of the 250+ speaker alumni reads like Who's Who of the 20th and 21st centuries.
Henning has also always had a focus on the educational value of what he has created. Countless students young and old have been enriched by his program. To learn more visit: